Spring 2018
EMILY SONG TO CARNEGIE MELLON UNIVERSITY!
Song committed to Carnegie Mellon University this spring to continue her softball and academic career. Emily plans to major in Biology and had several offers from high-academic programs. Emily chose Carnegie Mellon for their outstanding academic reputation as well as the excitement that comes with being on the schools first softball team! The coach spotted Emily at a few showcases in the Summer of 2017 and then again this past Fall at Diamond 9 in Orlando, FL. Emily, who is a very versatile player, will be on the roster as a utility player and pitcher. Emily has worked hard on and off the field and is excited to be part of a great school and softball program! Congratulations to Emily!
April 6, 2018
ABBY MORRISON TO DEPAUW UNIVERSITY!
2018 Pitcher Abby Morrison joined the Belles her Junior Fall season and had interest from college in every division. Abby did a great job writing to schools, sending videos, and performing at a high level on the mound. Her speed and movement pitches kept hitters off balance at the plate. Abby will be finding her softball home at DePauw University in Greencastle, IN. Abby is very excited to play for the Tigers who are coached by Erica Hanrahan. They are an extremely talented team and were the 2017 NCAC champions (its 3rd conference title win) and have made the Division III NCAA tournament 9 of the last 11 years. Abby hopes to help the Tigers achieve their goal of winning a national championship!
October 12, 2017
Belfer committed to F&M!
Jamie Belfer has committed to continue her education and softball career at Franklin and Marshall! Her decision to play at F&M was impacted by the school's high academics, beautiful campus, and softball program. The coaches and team were very welcoming and already made her feel like part of the F&M family. The coach first saw Jamie at the TNT Showcase in Delaware last fall. Jamie led off with a bunt for a hit and sprinted down the line to beat it out. When the shortstop wasn't looking, Jamie took second using her signature sneaky move before the opposing team even knew what was happening. The coach was impressed with Jamie's speed and ability to read the field so quickly. The coach continued to watch Jamie over the summer and into this fall season as Jamie continued to progress as not only an athlete but a high academic student in the classroom. Jamie has been a Belle for 6 years and has been named a team captain. Jamie's pre-game rituals get the team going with her chants, cheers, and sometimes even poems and creative pictures. She has become a strong leader within the Belles organization with her leadership and commitment on and off the field. Jamie plans to major in English or Math as she continues her education at F&M. We couldn't be more proud Jamie! Congrats!

December 6, 2017
Kelly Dovi Commits to Merrimack College!
Kelly Dovi of Brewster, NY committed to play ball at Merrimack College earlier this week! Kelly has been a Belle since her sophomore year. After guesting with the 18u Gold team at the Atlanta Legacy Showcase Kelly joined the team and has since played a very important role as a key position player and now team captain. Kelly has played many different positions for the Belles and in doing so, she has opened the eyes of many college coaches. Kelly had several offers during her summer and fall seasons but nothing felt quite right. After going on an official visit and spending time with the team Kelly knew Merrimack was the school for her! The coaches were impressed with Kelly's versatility on the field during the Diamond 9 showcase in Florida. During the weekend Kelly played first base, second base, and the outfield. In a game against the PA Outlaws down in Orlando, Kelly went 3 for 3 and helped the team score a very important run late in the game. In college Kelly plans to major in Biology or Business. Until then, Kelly will continue to lead the team as a captain and role model for the younger Belles to come! Congratulations Kelly! We are so proud of you and can't wait to see what the future holds!

August 10, 2017
Bonnie Kennedy Commits to AIC!
Bonnie Kennedy of Chatham, NJ committed to American International College earlier this week! Bonnie was spotted at the TNT showcase in Quakertown by the AIC coach during a game vs the Georgia Elite. Bonnie laid down a bunt, slapped a base hit through the 5-6 hole and hit an in the park home run all in the same game! With her speed on the bases and in centerfield she will be an asset to the AIC Yellow Jackets. While attending, Bonnie plans to major in marketing and graphic design. Bonnie has played for the Belles since 14u and is the longest active Belle going into her fifth year with the organization! Her hard work and dedication over her five years has opened many doors along the journey. Bonnie continues to lead the 18u team on and off the field and has recently been named one of the team captains. Congratulations Bonnie! We are so proud of you and all of your hard work!


August 2, 2017
Bridget Betley Commits to Post University!
Bridget Betley of Fairfield, NJ committed to Post University after a very successful summer! Bridget has played for the Belles for two years and along the road she had several offers but found her home at Post. Throughout the 2016 summer, Post University watched Bridget play at Team NJ, Pennsbury, Blue Chip (Shamong) and several other showcases. Bridget not only showed the coaches her skills on the mound but she also showed the coaches her versatility on the field. The coaches came to several games and watched her pitch, play second base, and first base. Bridget's athleticism on the field impressed the coaches along with her powerful bat at the plate. Batting third in the order, Bridget came to the plate in several pressure situations. Her ability to perform under pressure, drive in runs, and run the bases sealed the deal for the coaches. Aside from her success on the Belles, Bridget drove the West Essex High School team earning All State 2B and hitting over .450! We are so proud you and all of your hard work and we know you will do big things at Post! Congrats!


July 21, 2017
HUBERTUS IS FORDHAM BOUND!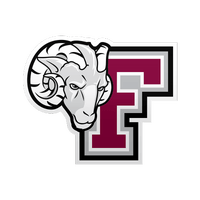 Rachel Hubertus, from Short Hills, NJ has been part of the Belles organization since 14u. Rachel has been on the 18u team since sophomore year and has drawn looks at every showcase. With a strong arm and a strong bat at the plate, Rachel has stepped up in many situations which has allowed college coaches to watch her perform in pressure situations. The Fordham coach spotted Rachel at the Team NJ showcase and was interested right away. During the first game Rachel made several plays at 3rd, and drove in runners on a gap shot to right center... this left the coach wanting more! On elimination day, Rachel drove a home run over the right field fence that practically landed in the Fordham coaches lap! After watching Rachel for the rest of the game and again the next weekend, Rachel's work ethic, positive attitude, athleticism, and powerful bat sealed the deal! Congrats Rachel! We are so proud of you!


December 16, 2016
Annie McCluksey to Amherst!
CONGRATULATIONS TO ANNIE McCLUSKEY!
Annie McCluskey from Kinnelon, NJ, commited to Amherst College earlier this week. Annie has been a Belle for the past three seasons and has played multiple positions. Annie was watched by the Amherst coach at several tournaments and camps over the past two years. Annie sparked interest of the coach with her versatility as an infielder and outfielder. Annie toured the school, met with coaches and players, and fell in love with the college. Annie plans to study Economics and Spanish as she prepares for a career in Finance. Annie will play her last season for the Belles as she continues to prepare for her college softball career. Congrats to Annie and the McCluskey family!


November 12, 2016
Taylor Pechin Signs to Play at Stony Brook University!
Taylor Pechin signed her National Letter of Intent to play softball at Stony Brook University. Taylor Pechin, a native of Delaware, has played for the Belles since eighth grade. She has played for Coach Don at the 18u level since joining the Belles, and has grown tremendously. During the Team NJ Summer Showcase in 2014, Taylor was spotted by the Stony Brook head coach. After watching Taylor pitch, play first base, and hit, she was invited to campus. Upon vising the campus, she was offered a spot on the team. Taylor has been committed to the school since that summer! Taylor will begin her college education and softball career at Stony Brook in the Fall of 2016! Until then, Taylor leads the 18u team as one of the team captains and provides insight for our younger girls as to the college recruitment process, communication with coaches, and working hard on and off the field! Congratulations Taylor!


November 12, 2016
Kaleigh Dwyer joins Waishes on the journey to Salve!
Kaleigh Dwyer committed this week to Salve Regina University in Rhode Island. Kaleigh was one of the coach's top recruits after an outstanding summer on the field. Kaleigh joined the Belles in the Fall of 2014. With only two fall weekends under her belt, she suffered a broken leg as a result of a collision at home during the Shamong Blue Chip tournament. Kaleigh went through surgery and physical therapy over the fall and winter months before returning to pitch for her high school in the spring of 2015. Kaleigh, a native of East Brunswick, NJ, not only lead her high school on the mound, but came back even stronger for our 18u team this past summer. Through her dedication and determination, Kaleigh worked hard all summer and it showed! After New England's finest, Kaleigh was invited to tour the campus and stay for an official "overnight" stay. After meeting the team and coaches, she knew Salve was the school for her. Kaleigh will continue her education and softball career at Salve next fall. Until then, this team captain joins a strong group of Belles seniors that will pave the way for the younger Belles players! Congratulations Kaleigh!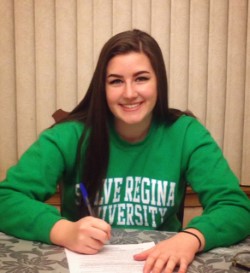 November 2, 2016
Amanda Waishes on her way to Salve Regina!
Amanda Waishes, a 2016 catcher/outfielder, has committed to Salve Regina in Rhode Island! After touring the campus and being invited for an overnight official, Amanda not only loved the school, but the coaches, players, and overall softball atmosphere! Amanda was seen the summer of her junior year and was offered a spot on the team soon after! Amanda will make her way up to Salve Regina next August, but until then, she will continue to play an important role on our 18u team, and help our next age group get recruited! Congrats Amanda!


October 12, 2016
Melina Strano Commits to Manhattanville College!
Melina Strano, 2016 catcher/outfielder from NY, commited to Manhattanville College this afternoon (Oct 12, 2015!) Melina joined the Belles in August of 2015. She already had some interest from schools, but was still deciding on where she wanted to continue her career. At the Fall Team NJ showcase, the Manhattanville College watched her lead off the batting order and catch the entire game! He already had some serious interest, but after the game, he was sure Mel was right for the team! She visited the campus and was offered on the spot! Congrats to Melina and the entire Strano family!

July 23 2016
Harney Twins Recently Committed!
Jaimie and Jessica Harney committed to the State College of Florida, Manatee-Sarasota at the end of 2014. They had an amazing showing at Diamond 9 in Orlando, FL where both girls sparked the interested of several southern schools. After visiting schools a few days after the showcase, they fell in love with the campus and committed State College of FL! They finish their final season with the Belles this summer and then head down to Florida to continue their softball careers!